Is AI Writing Always a Good Idea?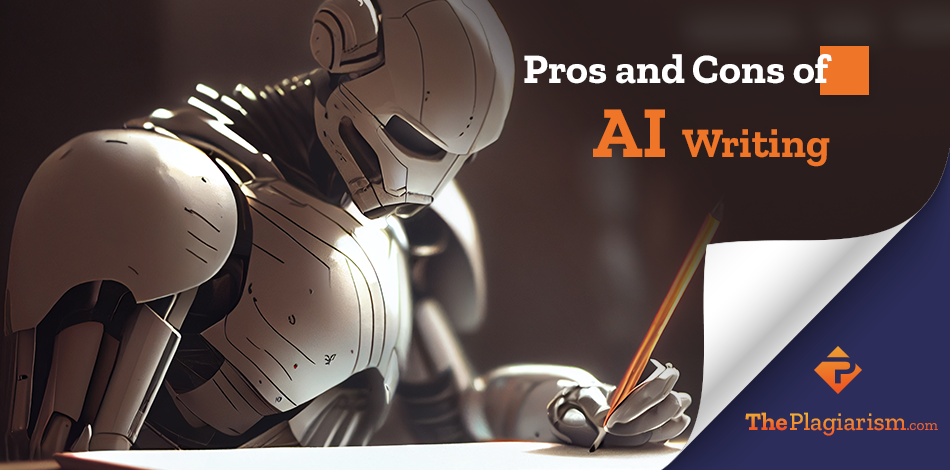 You are a writer and your professional dream has always been very clear and understandable. To write fast, to work better, and give bigger ideas to let the readers know that you are the one whose point of view they should always take into account – that's it, right? The tedious tasks have always worn you out but you want to conquer all the blocks and speak with confidence. This new era of ChatGPT and other miracles of technological progress make you consider the benefits of using ai writing tools. So, has your dream come true? Isn't it the answer to your questions? Can you now think bigger with this assistant you have never had before? Let's have a look at the pros and cons of AI writing.
AI Drawbacks vs. AI Outstanding Features
It is high time to keep track of the benefits and drawbacks of AI writing tools as popular reviews refer to them both as to unmatched writing assistants that get texts at a new level and criminals which steal the jobs of writers, being not flawless at all. For sure, artificial intelligence tools have just started their long way and we will get even more surprised with their capabilities really soon. However, for now, you can actually get mistake-free texts in no time! It means that in a few seconds, you get the article written exactly according to your guidelines. Implementing the best outputs of AI writing into your work, you can easily maximize your content, but what the price for this is and what you should be aware of – these are the questions.
The industry of content writing has never experienced such revolutionary changes ever before. Heated debates all around the AI use sparked at once and they are going to be topical for a long time. Critics refer to their unmatched opportunities but also express concerns about a number of potential threats. So, is AI integration into the process of creating content worth it? We will weigh all the pros and cons now.
Why Should I Use AI Writing Tool? What Do I Get?
Increased efficiency and boosted productivity
If you have a fast operational workflow in your business or you are a blogger who has to post several articles a day, you are definitely interested in making the pace of your writing much higher than it used to be. AI can help with giving a list of topics, summarizing the notes, creating the required scripts, and creating lots of needed content when the allowed time is limited.
The competition in modern business world is merciless. Keeping up with the competition, you will have to be quick and react to all transformation without a slightest delay. If you avoid using the tools that other companies have accepted, you lose a lot of chances.
No more long hours spent on researching the topic. With only a few minutes needed to generate an AI request, you get the basis for drafting your blog or article. You can use AI instead of the stage of brainstorming as well. Still, relying on the facts compiled by AI is a huge risk. Double-checking everything also requires time and effort. It is up to you to decide.
Using different languages
Operating globally, you can use AI as a fantastic asset with excellent knowledge of languages. No more need for translators if it goes about technical content, not fiction.
What Cannot AI Do?
Business writing with the use of data is absolutely different from creating blogs with an evident or hidden call for action. When you need to create a genuine connection based on emotions with the readers, AI cannot duplicate the sincerity in you as a human writer. One-nil in favor of human writing!
AI tools analyze huge scopes of information and data, but at the same time they cannot take into account the peculiar features of context and subtle insights into the topics they cover. Enhancing the process of writing is fine, but you do not get a guarantee that the product can be evaluated as a gem.
Sound creative and unique
What you can get from AI is invaluable help with formatting or structuring the text; however, it is not right to rely on it in terms of creating ideas. If you have your idea, ChatGPT or some other tool can let you express it in a nice way and that is really helpful! You can save your time needed for formalities and focus on creativity which AI cannot provide. A fair deal! By the way, with the help of ThePlagiarism.com, you can always check whether the output you get is truly genuine. Authenticity always matters!
The basis for AI-generated content is a combination of algorithms. Using the data found online, AI tools are trained to draw effective conclusions. Still, if there are errors in the details or some of the algorithms are designed with certain flaws, there will be inaccuracies in the results. Thus, there is a high potential for mistakes in the created content. Without fact-checking, the credibility of AI texts will not be excellent.
Get the tone of writing you need
A human writer can distinguish between subtle nuances in the voice of the created message to the readers, but AI cannot capture them at all. It lacks the ability to add to the unique nature of a business identity, but you can improve the AI draft and get the output you need.
Picking the best AI writing tool for creating the needed content, you have a lot of factors to consider. Refer to our analysis on pros and cons of AI and try to make an informed decision, assessing the reliability and accuracy of the software you use. With a wide range of available options, you will definitely get the job completed. Some of the tools let you have your work done perfectly well. Still, do not treat the AI tool as the author of your text; instead, turn it into your assistant. If you use it like a compilation of hints and basis for giving your own opinions, then why not make the most of it?
All in all, AI writing technology is an intelligent helper, not a smart writer. Mind that it does not generate excellent content, it assists with it. No chatbot can sound brilliant in writing even with its enormous technological capabilities. Still, you can with its help!