Striking the Balance between AI-Powered Writing Assistants, Creativity, and Plagiarism
02 Oct 2023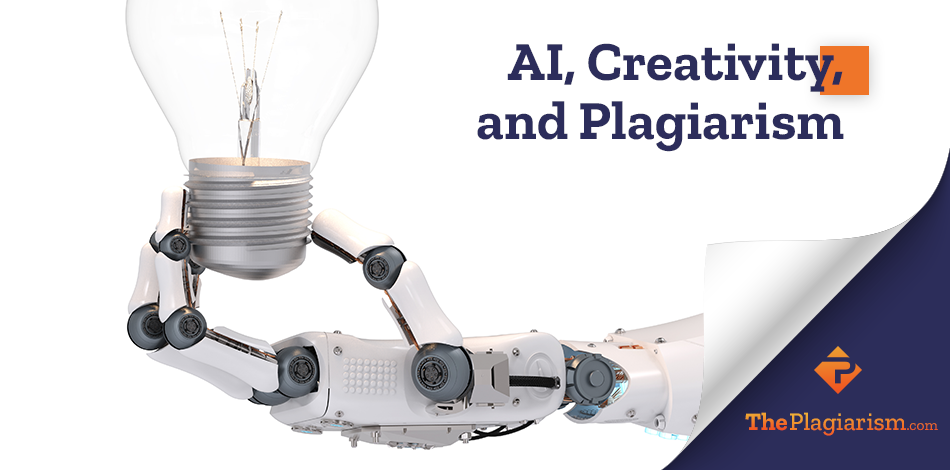 Life rarely gives simple and direct answers, especially when the questions are rather provocative. In the era of AI tools, is there place for originality? Does AI kill creativity or give it a new start? How can we define this collaboration between human brain and the latest software? Is that partnership of two creative parties? Plagiarizing without referencing the actual author of the ideas? Parasitism? Cheating? Drawing inspiration when your ideas have dried up? Can a computer be truly creative? There are so many questions that they can make one dizzy. Nevertheless, let's try to see what is in the core of AI creativity and how it can be wisely used in human writing.
Are Originality and Innovation Present in the AI Era?
It is a real challenge to give a specific answer to the question 'Is the article generated by AI and checked for plagiarism to show 0% of matching truly original?' This is weird how plagiarism detection tools are gradually becoming helpless in their fight for authenticity. Without a special feature of detecting AI-generated content, even the most sophisticated ones, like theplagiarism.com, can become useless at once. Few would use the good manner of mere plagiarizing articles from the Internet.
Remember the best article you have written. Try to estimate the amount of hours you spent on collecting ideas, polishing the structure, making the sentences concise and clear, proofreading, and revising your article again and again. What happens now? You spent a minute on writing the prompts and here you go! You get a brand-new piece of writing in no time! Do you have to be creative and imaginative to recombine some ideas here and there to get what your readers can expect? Well, to some extent, the answer is positive. However, to be truly honest, can you say that the article is yours and you deserve the praise if it is a masterpiece?
Is AI a Way to Check All of Us for Integrity?
There is a thin line between stealing an article and getting it from an AI tool. There is no actual copying and pasting in using the latest advancements in the software industry, but the practice of getting a great result without exerting great effort gets to a level never experienced before. You used to refer to some of your acquaintances as truly creative people because what they did was so striking new and innovative that no one could equal their talent. Still, you knew how hard they worked to polish their texts and how little free time they had. Now, there is no need in hours for brainstorming. AI can analyze any problem, weighing the pros and cons of all solutions, and your task will be just to compose the text or just restructure the paragraphs a bit. As easy as ABC!
Let's fancy that you have a chance to make your writing a lot easier, will you reject it to be noble and honest in your work or studies? It is not easy to give a fair answer at once. Still, you do realize that there is no way back. The world has changed forever. You long for authenticity and uniqueness in your writing, but you cannot avoid the impact of artificial intelligence on your work.
Is It Possible to Stay Creative while Using AI?
Well, you need to admit that you will not say 'Definitely no!' when it goes about making a huge progress with your writing. So, what you need now is to understand how to maintain your own voice and balance your creativity and borrowing content from an artificial mind.
Collaboration instead of getting what you want
AI has enormous potential, but you have the scope of imagination and real life experience no computer can have. Try to make use of this incredible mixture to make the most out of your writing.
Giving credit instead of stealing
It is a sign of dignity to acknowledge the used sources, whatever you get them from.
Being responsible instead of going beyond the limits
One day you will be tempted to copy the text composed by ChatGPT and submit it somewhere: to your high school, college, university, newspaper, blog, or anywhere else. Mind the intellectual ownership and ethical standards before you go too far!
Learning instead of freezing on the spot
Push all the boundaries and expand the horizons! Without trying new things, you will soon fall behind the competition. Be creative not only in your writing! Try to choose the best solutions and follow all the AI updates. You should be the guide in this world, not the computer mind.
Keeping safe! Tracing the likelihood of AI-generated contact is now really effective and it is going to become even more reliable really soon.
Scrolling through Instagram photos, we lose the time we could spend on reading books. Googling for answers in the smartphones, we save time but lose an opportunity to experience an insight after you get information as a result of challenging search and analysis. AI resembles a sponge that takes information from everywhere. You can make use of it, feeding on this in-demand option. At the same time, you should be cautious not to rely on it too much. Think bigger! It seems a computer cannot come second in the run for the best writing, but you can try to get your first prize smartly.
Fierce competition in the industry of creative writing, especially in the times of AI, can turn you into a better player! Choose what you use in your writing with painstaking care and you will come up with the most brilliant ideas! Make a bid on proper use of artificial intelligence and your thinking will be amazingly out-of-the-box. Just imagine how far your imagination can bring you if you have a technical assistant who can take care of the details.
Explore as much as you can and unleash your creativity, leaving all doubts behind. Harness the AI power and see how everything changes as you look at it from a new angle.