Summer Music Festivals That Revitalized Students' Minds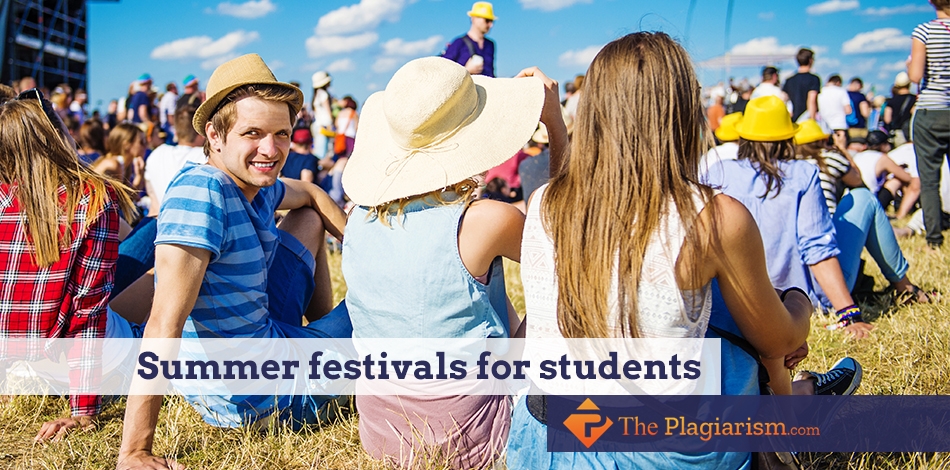 Eight Worthy Summer Festivals for Students
Are you in your junior year? Or maybe you are in a senior one? (Well, waiting until then is optional). This is high time for you to start spending the last days of summer beneficially to get ready for your future. Luckily for the weather in the United States, student summer continues even when a new academic year starts. September often feels like summer. The question of what to do in the summer or at least during the Indian summer for college students has a definite answer: visit a music festival or a concert and gain the best emotions ever. So, start getting ready right now as it is never early to arrange the things you need to make the warmest time of the year unforgettable even when it's coming to an end. So have you spent your summer as cheerful and witty college students do? Further, you can discover eight best summer concerts of 2018. Have you visited at least one of the following festivals?
North Coast Music Festival

This is the only upcoming festival on the list, so you're lucky if you are in Chicago right now. Place: Union Park, Chicago. Time: from August 31 to September 2. If you are a fan of jam bands, hip-hop, and electronic performances, this must be your perfect choice. The headliners of this year's festival include Jamiroquai, Miguel (R&B singer and songwriter), DJ Snake from France, DJ duo Axwell Ingrosso from Sweden, and others.

Afropunk Fest 2018

It took place in Brooklyn, New York, on August 25-26. This festival, often called Afropunk or Afropunk Fest, is primarily an art festival and takes place every year to make Afropunk cultural cornerstones united with the help of various types of art, such as film, music, or skate. The theme of Afropunk – 2018 was The People Resist. Its main idea was to unite Afropunk ideology and its supporters to resist those, who tend to oppress it. Afropunk has gained international popularity since it has become successful not only in the US but also in Europe (Paris and London) and South Africa (Johannesburg). A new ticket system has been introduced to grant a wide access to the festival venues. The system is called BOGO (Buy One, Give One) and it means that any young New Yorker who has taken part in such art programs as Recess Art and Young New Yorkers can visit the festival once they bought a general admission ticket. This year the festival took place on August 25-26 in Fort Green, Brooklyn's Commodore Barry Park. Janelle Monae, Erykah Badu and Tyler the Creator were among the headliners.

Vans Warped Tour

Started on June 21 in Pomona, California, and finished on August 5, West Palm, Florida; its venues were scattered all over the US. This festival is one of the biggest mobile music festivals in the United States. It is also the festival which has been running longer than any other touring festival in North America. It was founded in 1995 by Kevin Lyman, and it was originally the festival of alternative rock music. Since that time, the festival has developed into a more versatile event which now includes hip-hop and pop, reggae and metal. Nowadays, it is an impeccable place to find new friends and experience unforgettable emotions. The tour of 2018 was announced to be the final one. Thus, a countless number of bands that have taken part in the festival throughout its history have been welcomed back. Simple Plan, Reel Big Fish, We The Kings, Less Than Jake and many others are on the list of headliners, not to mention Trash Boat, State Champs, Grayscale, Don Broco, Movements, Real Friends, and Waterparks.

Elements Festival, NYC

Started on August 11 in New York City. If you've visited this festival, then you surely know what to do in summer for university students who are into electronic music. NYC's festival Elements is the best destination for synthetic music adherents. This year, lucky visitors indulged in the music atmosphere of the five stages. The incredible lineup included Bassnectar, Desert Dwellers, Emancipator, Imagined Herbal Flows, and many others.

Breakaway Festival 2018

Started on August 24 in Columbus, OH, and lasted for three days. It was the festival with a vibrant lineup featuring the headliners Halsey, Migos and ODESSA, and some special guests – Khalis and Kaskade. Owing to the diversity of performers, the festival attracted the fans of various genres.

Dreamstate 2018

This festival took place some days earlier than the previous one (August 17-18) at the same place, that is Columbus, OH. It is the biggest festival of trance music that has been on for three consecutive years. This year the headliners were Paul Van Dyke and Markus. The organizer of the festival was Insomniac. The festival is international, with New York, London, and Sydney being its major markets. Thus, the lineups usually depend on the city the festival takes place in. John O'Callaghan, ATB, and Alpha 9 were among this year's performers.

Bellwether Music Festival

This is one more brilliant summer music festival for college students which took place on August 10-11 at Renaissance Park in Waynesville, Ohio. It combined alternative music and camping. Sixteen music acts were invited to perform on two stages of the festival, including The Flaming Lips, MGMT, Local Natives, Echo & The Bunnymen, Whitney, Japanese Breakfast, Dawg Yawp, Carriers, and many more.

Lockn' Festival 2018

Situated at the very foot of the Blue Ridge Mountains, Lockn' Festival 2018 is among the most popular summer festivals for students who love music and camping. It took place on August, 23-26, in Arrington, VA. The headliner of this year's festival was the band Dead & Company consisting of former Grateful Dead members – they do not often appear at the festivals, by the way. Besides the above-mentioned rock group, people enjoyed the music by Widespread Panic, Tedeschi Trucks Band, Joe Russo's Almost Dead, Sheryl Crow, George Clinton & P-Funk, Umphrey's McGee, Moon Taxi, Lukas Nelson & The Promise Of The Real, Lettuce, Toots & The Maytals, The Suffers, Pigeons Playing Pingpong, Turkuaz, Blues Traveler, and many others.

Though beautiful summer is passing by, its pleasant melodies will still sound, especially in the ears of inspired students, during September.